Exciting exploit of urban archaeology: the huge HELSINKI sign is back at Malmi Airport
22 August 2013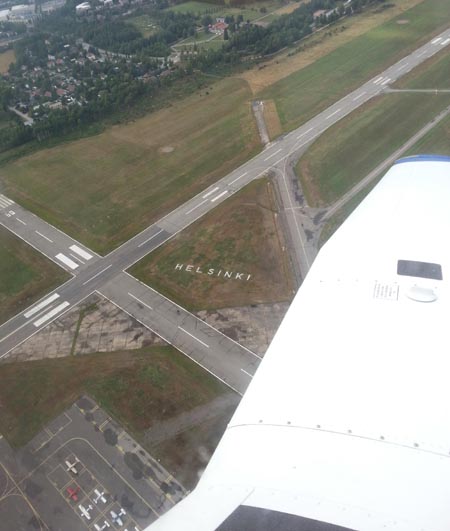 Distance obscures the scale: the width of the HELSINKI sign is 64 meters, and the height of the letters is six meters. Photo: Klaus Wesa / Kalle Reunanen
After planning his urban archaeological undertaking for years, active FoMA member, land surveyor Klaus Wesa has carried it out. The giant letters forming the word HELSINKI on the surface of Malmi Airport, buried for decades under the grass, are once again visible to aviators, telling them that Malmi is the Finnish capital's own airport.
When the Airport began operations towards the end of the 1930's, aviation regulations required laying a large text on the ground to inform pilots of the name of the locality. The 64-meter-long word HELSINKI at Malmi Airport, composed of 6-meter-high letters, was still visible in aerial photographs taken in the early 1950's. Since then it had slowly been buried in topsoil and covered by grass.
Mr. Wesa, who grew up in Puistola right next to the Airport, heard of the HELSINKI sign from his father and became enthusiastic about restoring it after seeing an old aerial photograph of it. After planning his urban archaeological excavation for several years he started digging after obtaining in spring 2013 a permit from Finavia to work within the Airport perimeter after opening hours.
In June and July he spent more than two weeks on Malmi Airport locating and digging up the giant letters. His first efforts before Midsummer were unsuccessful because the edge of the nearby taxiway had sometime been moved three meters, causing an error in measuring the location of the letters. Once this was realized, Wesa's hoe struck the concrete edge of the last letter I on his third night of digging. "I felt like Indiana Jones", he told a reporter of Helsingin Sanomat on 9 July.
Klaus Wesa and Harri Kanto spraying temporary paint on the 6-meter-high letters. Photo: Finavia
The heavy digging had to be done at night time, when the Airport is closed. Wesa even had to return the soil he had dug up back to where it had been by morning so that the rotor wash of helicopters would not spread it around. During the first week of July, all the letters had been found.
A less back-breaking phase began in August, when Klaus Wesa and Harri Kanto airbrushed the surface of the letters with a temporary paint sponsored by Sipoon AT-tuote Ltd. The aviators arriving at the Helsinki Fly In event to honor the 75th anniversary of the historical Airport got to admire the huge HELSINKI sign with the paint scarcely dry.
In the next phase, the aim is to return the visibility of the name of Helsinki's own airport permanently with suitable materials.
More information:
Helsingin Sanomat 31 July 2013 (with two images, in Finnish only)